Grant Park Family-Friendly Bikeways Proposal
With the completion of the new parking deck serving Zoo Atlanta, Grant Park has an opportunity to collaborate with the zoo in raising funds to create a family-friendly route for walking and biking to the Beltline separate from busy traffic on Boulevard.
Years ago, Park Avenue became the back-lot of the zoo, providing a maintenance route. With recent advances in security technology and automated vehicle safety features, we have an opportunity to re-connect this route as a safe and level connection to the Beltline along Park Avenue.
To create a map room and history center with views of Fort Walker, the footprint of the current maintenance building could be doubled without tree removal. By including two or three additional levels for interpretive exhibits and archives, the total space could be six to eight times larger than the current zoo storage building. The higher roof would be ideal for solar panels.
Additional amenities in the converted zoo backlot could include residential facilities for zoo staff and a free retail shuttle route from the Beltline to Atlanta.
How Children Demanding Play Streets Changed Amsterdam
- Woonerf (pronounced "vu-nerf") means "a livable landscape" in Dutch.
Mobile Retail
- Carbon free, automated safety detection. Free shuttle service into downtown.
Atlanta Map Room
- Georgia Tech's Local Data Design Lab combines contemporary data, historical documents, and personal stories.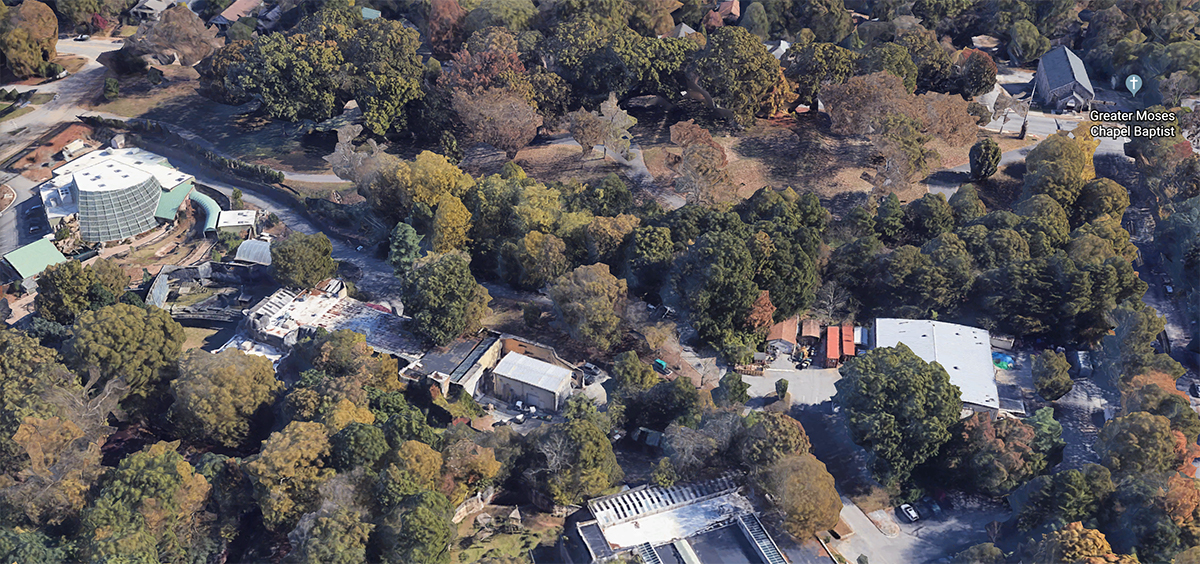 Inclusive Connectivity - A Park Avenue woonerf route could provide a mix of walkable ammenities, including
mobile storefronts
and residential buildings for zoo staff.
Long-term Planning for Park Avenue connection to Hulsey Yard
Highway-Capping Fever has Spread to Grant Park
- Fast passenger rail could travel under Park Avenue, with a station at the parking deck by Zoo Atlanta. It would emerge in the forest by Boulevard Crossing Park then connect to the CSX line at the federal prison (converted into a towncenter) where an airport could reside.